O2 Energy LLC
O2 Energy LLC is a pure recreational oxygen sales company based in Anderson, IN. Canned oxygen is proven to increase your stamina, enhance your mood, refresh your mind and body and allow you to get a good night's rest. We take pride in having top notch canned oxygen experts that can help answer any questions you may have.
We have an excellent staff that are experts on all of the canned oxygen products we sell. If you have questions, we've got the answers!
All of our oxygen canisters have sanitary protective caps and a specialized delivery spray top that keeps oxygen flowing to you at the perfect rate.
Do you play sports? Canned oxygen may be for you. When you're working up a sweat and breathing heavily, your body is yearning for more oxygen. Take a hit from O2 Energy and continue exercising.
Travel often? O2 Energy can reduce jet lag. Since canned oxygen is not TSA approved, we'd be happy to ship your order to your vacation destination.
Need a pick-me-up? Ditch the coffee and grab your canned oxygen. A few deep breaths from your O2 Energy can will refresh and regenerate your mind and body without the carbs, calories or caffeine crash.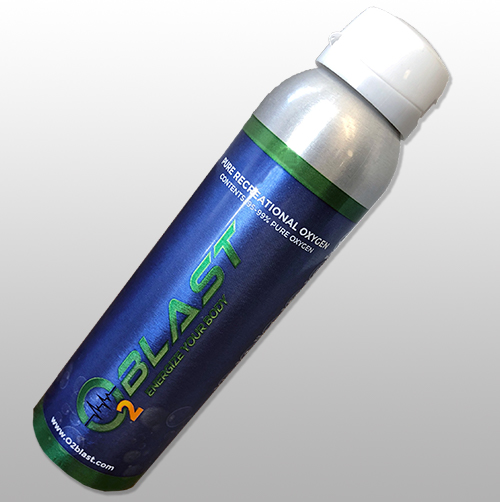 Experience Canned Oxygen
At O2 Energy, canned oxygen is our specialty. We sell 100% safe, natural canned oxygen products that can be used anywhere. Take it with you on a hike or keep it in your desk drawer at work—you never know when you might need a boost of energy to get you through your day. Ditch the energy drinks and cups of coffee and instead inhale canned oxygen. Your body and mind will thank you! It's the natural way to refresh your body. Want to know more? Our experienced staff is here to help answer any questions you may have regarding canned oxygen.
We take pride in providing our customers with pure recreational oxygen. The best way to increase energy levels and mental abilities is using O2 Energy oxygen. Oxygen is required by every cell in your body, making our product an important one. By inhaling canned oxygen from O2 Energy, you'll increase oxygen saturation in your body and help fight off pathogenic viruses and bacteria that cause most illnesses. Your muscles will also benefit from the additional oxygen inhaled into your body. Muscles use oxygen to reduce lactic acid buildup, allowing you to avoid muscle exhaustion and soreness after exercise.
Breathe Deeply and Refreshingly
Want to explore the benefits of pure canned oxygen for yourself? Contact us to learn more or to get started with our product and see for yourself just how exceptional oxygen is!